Sample Kit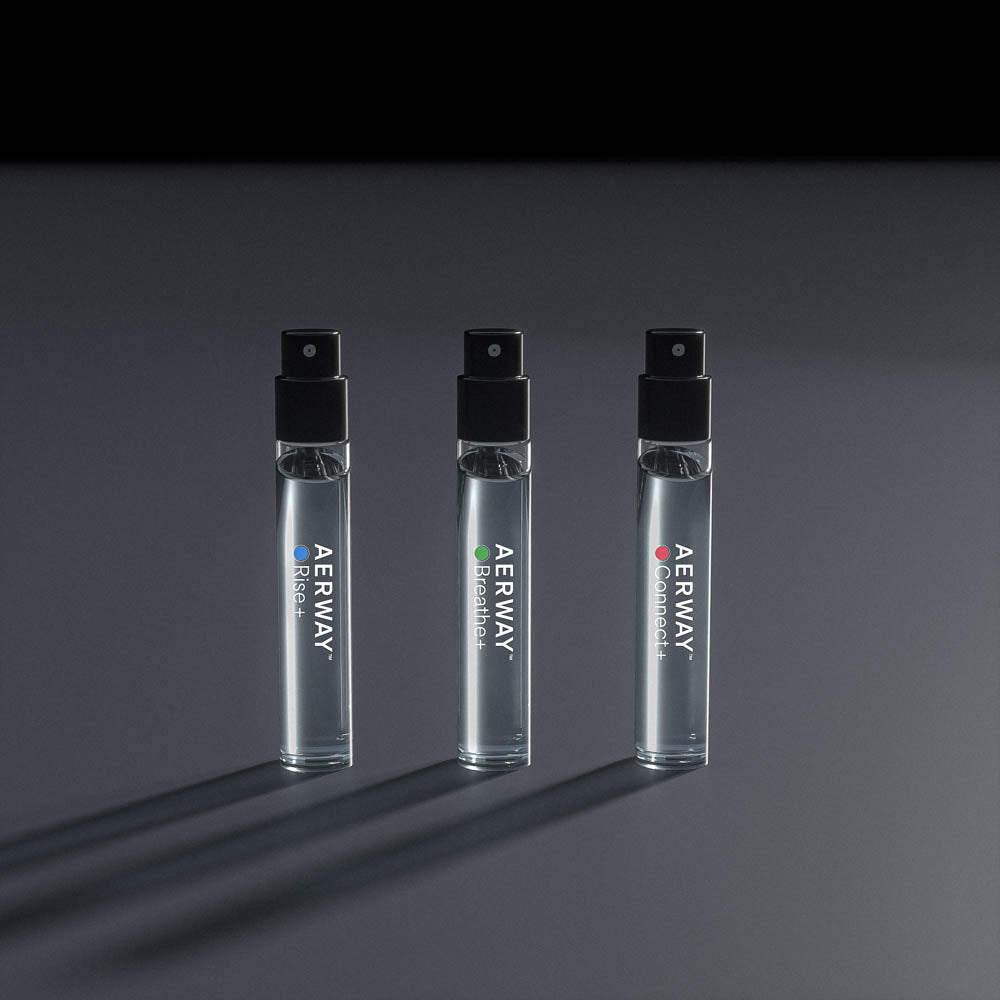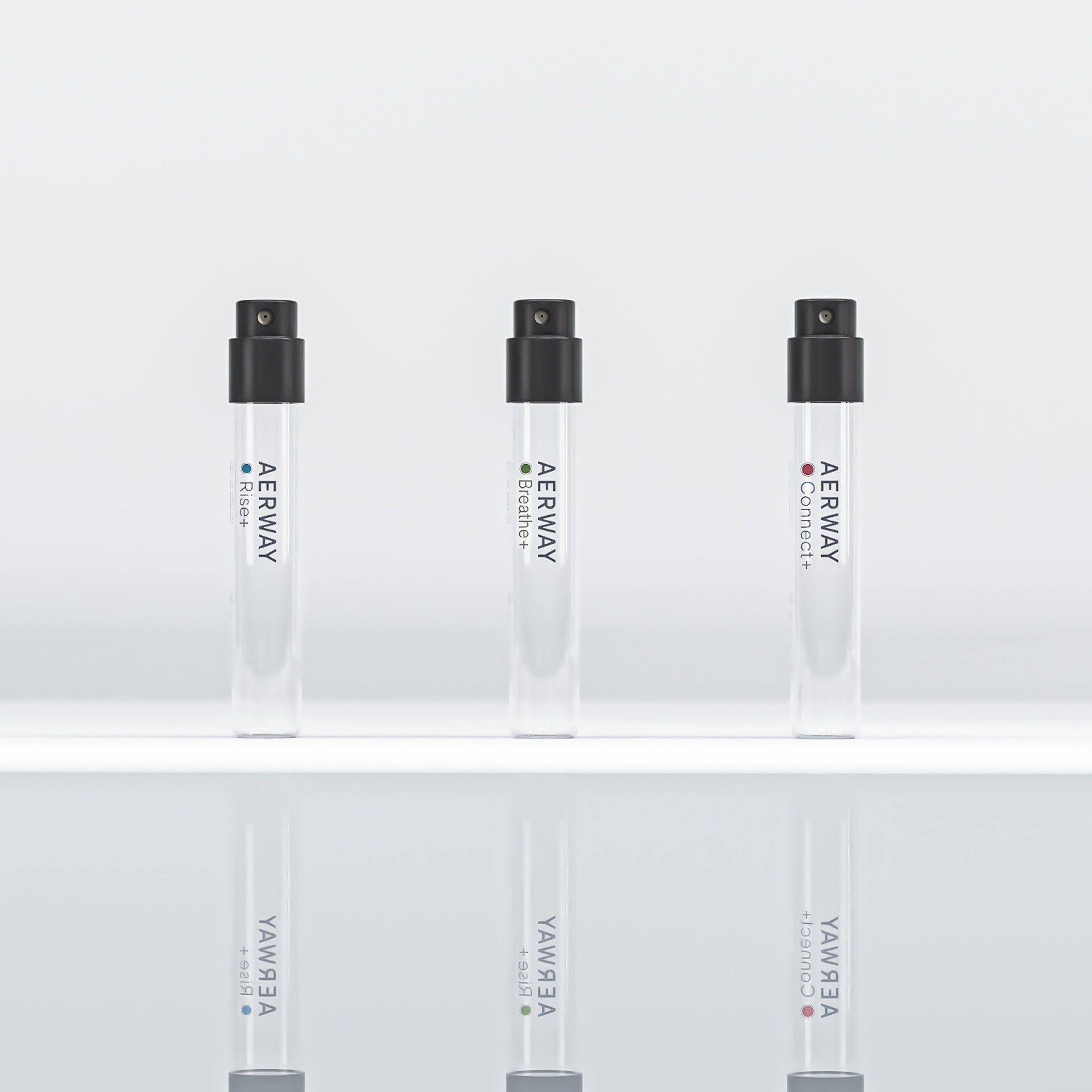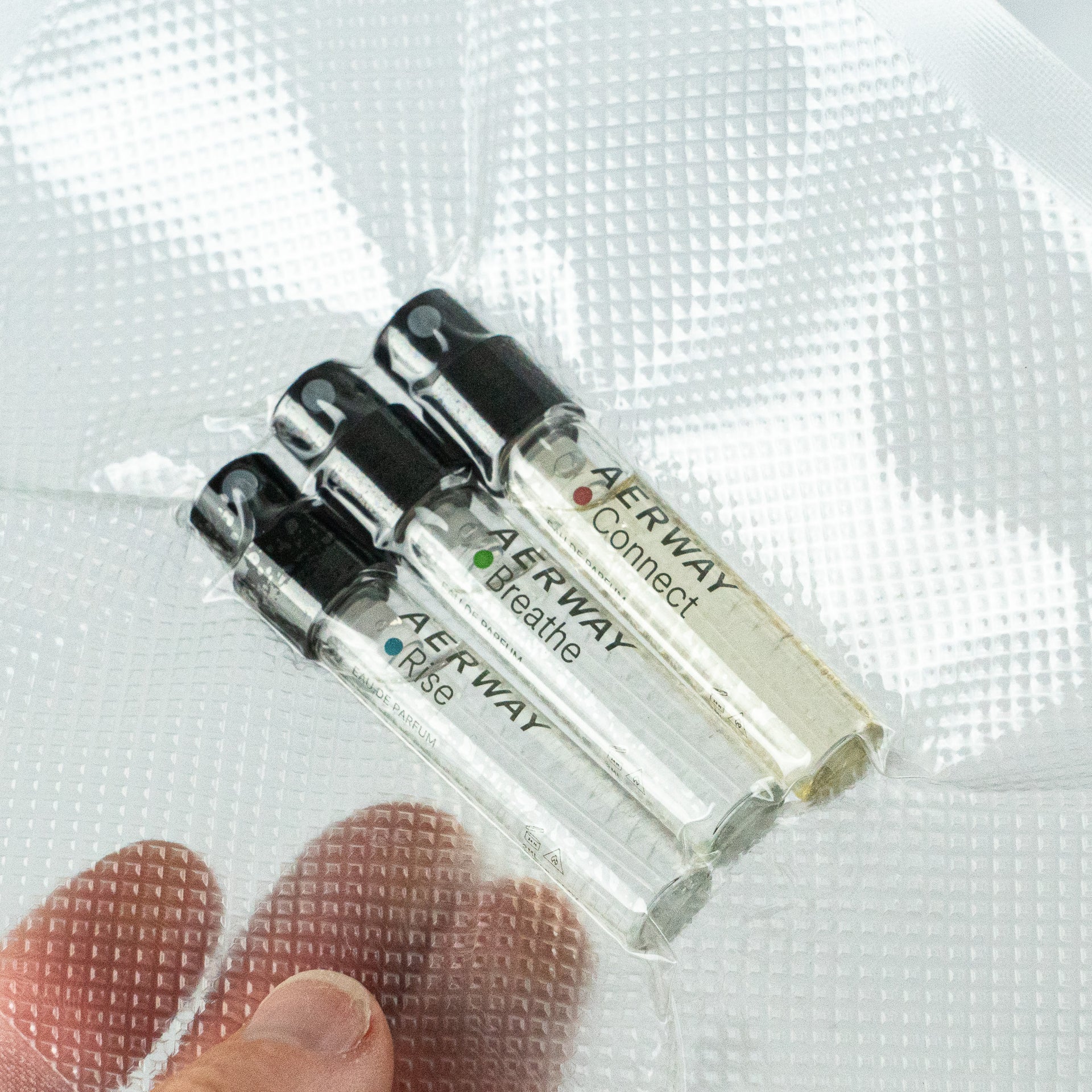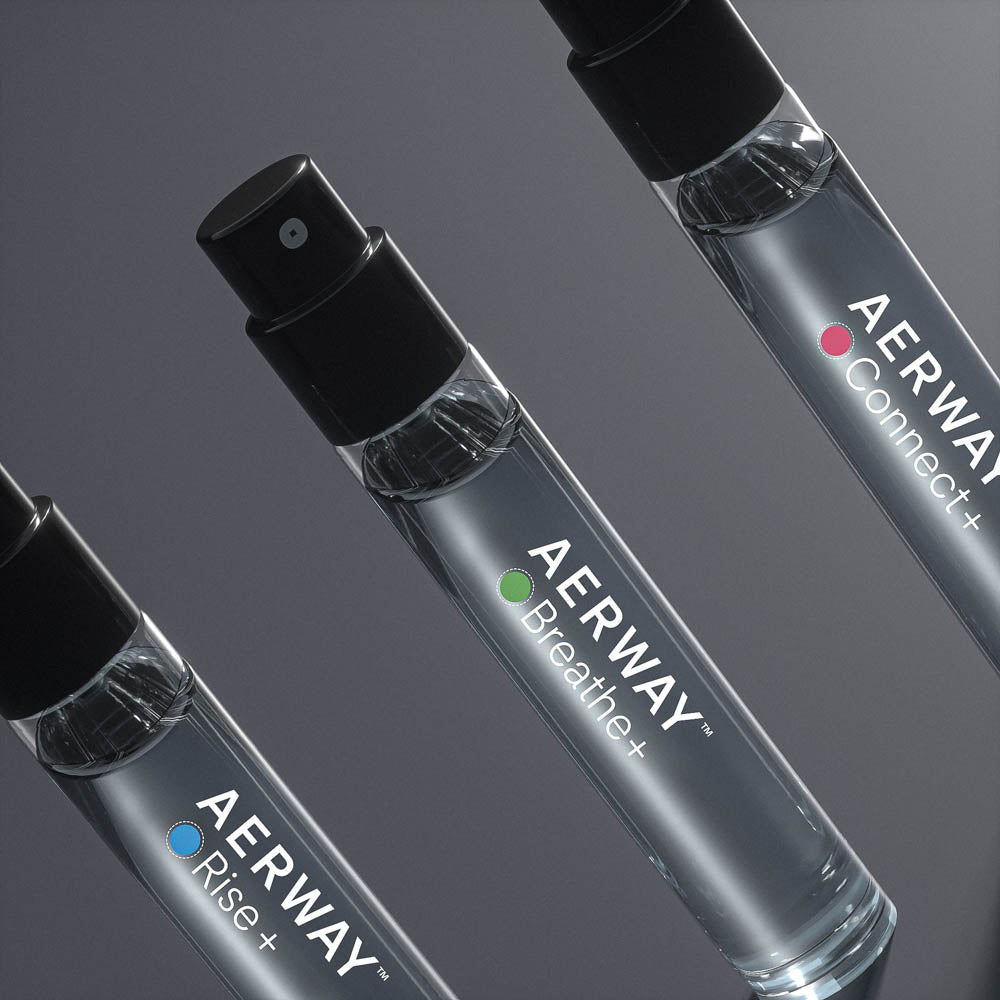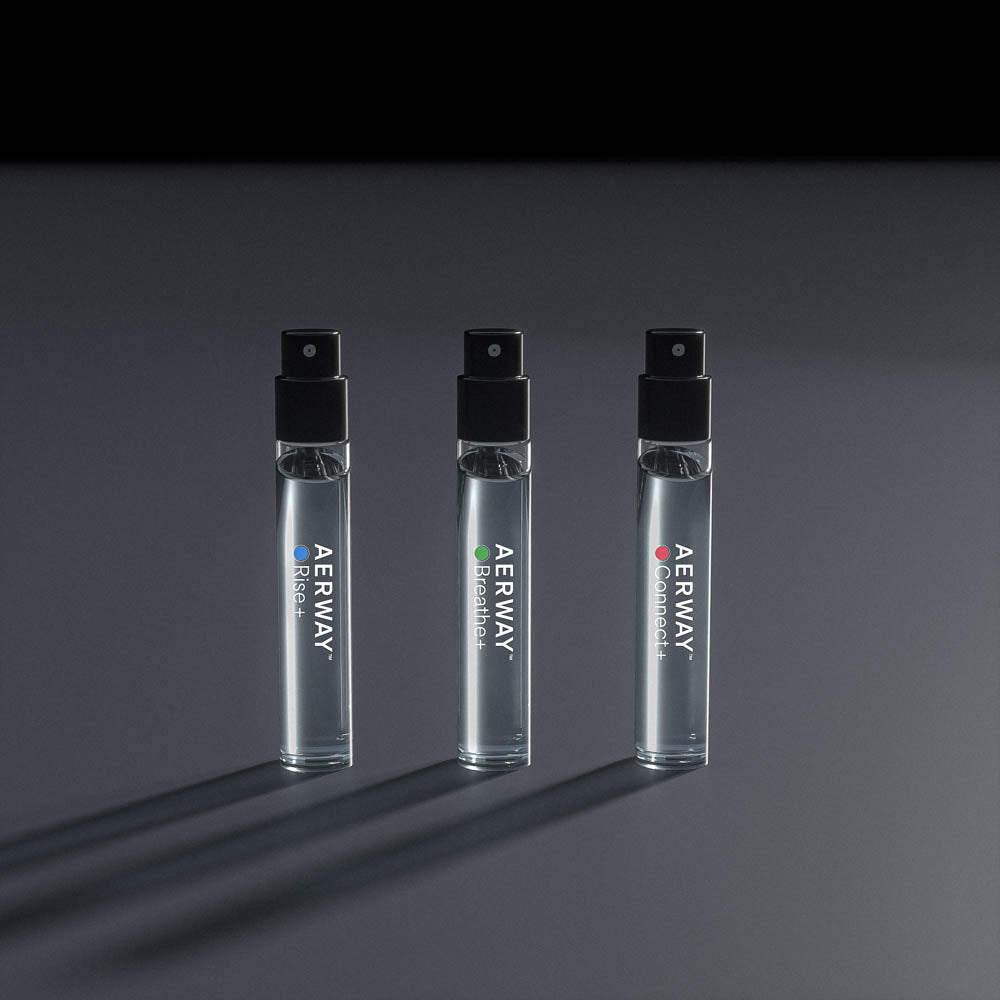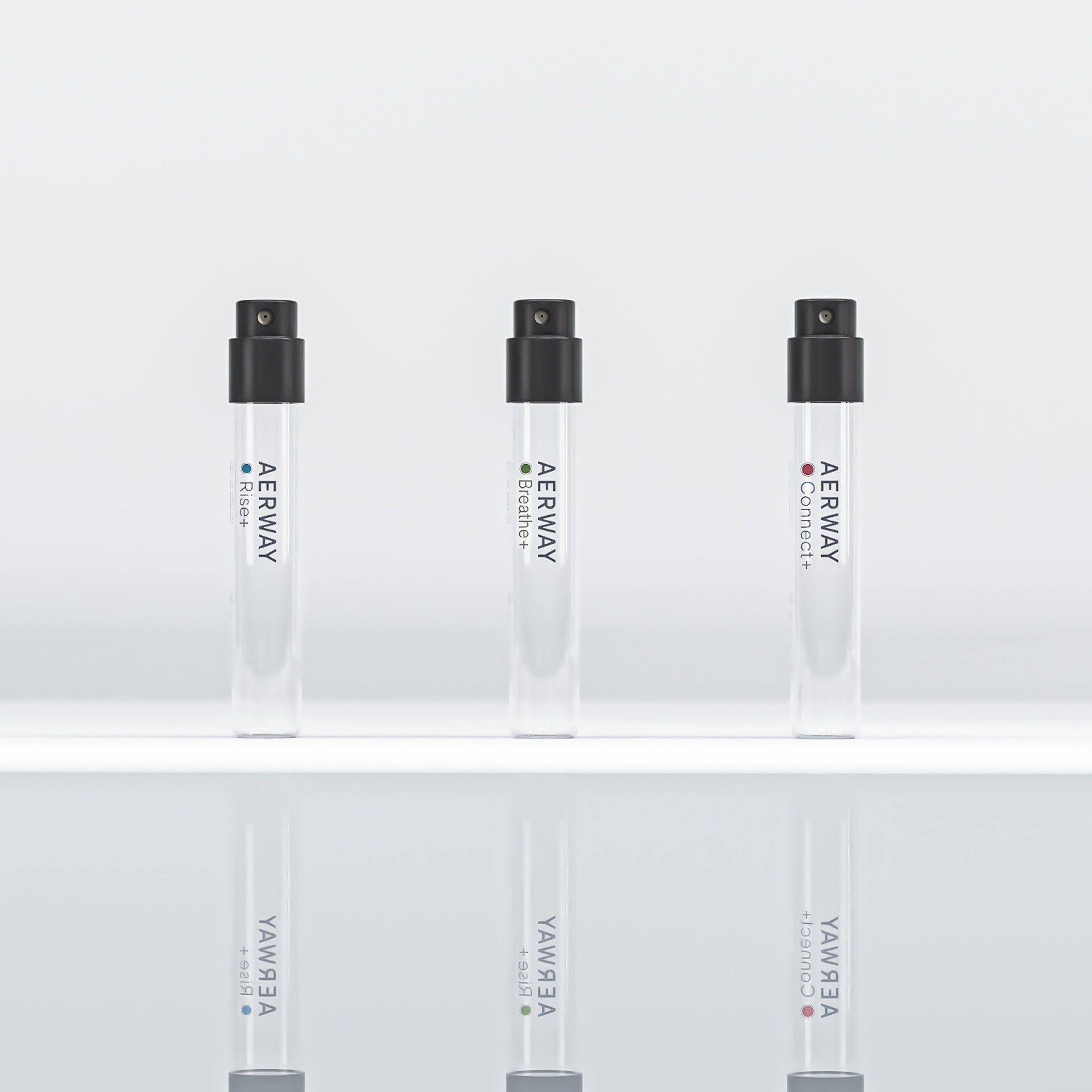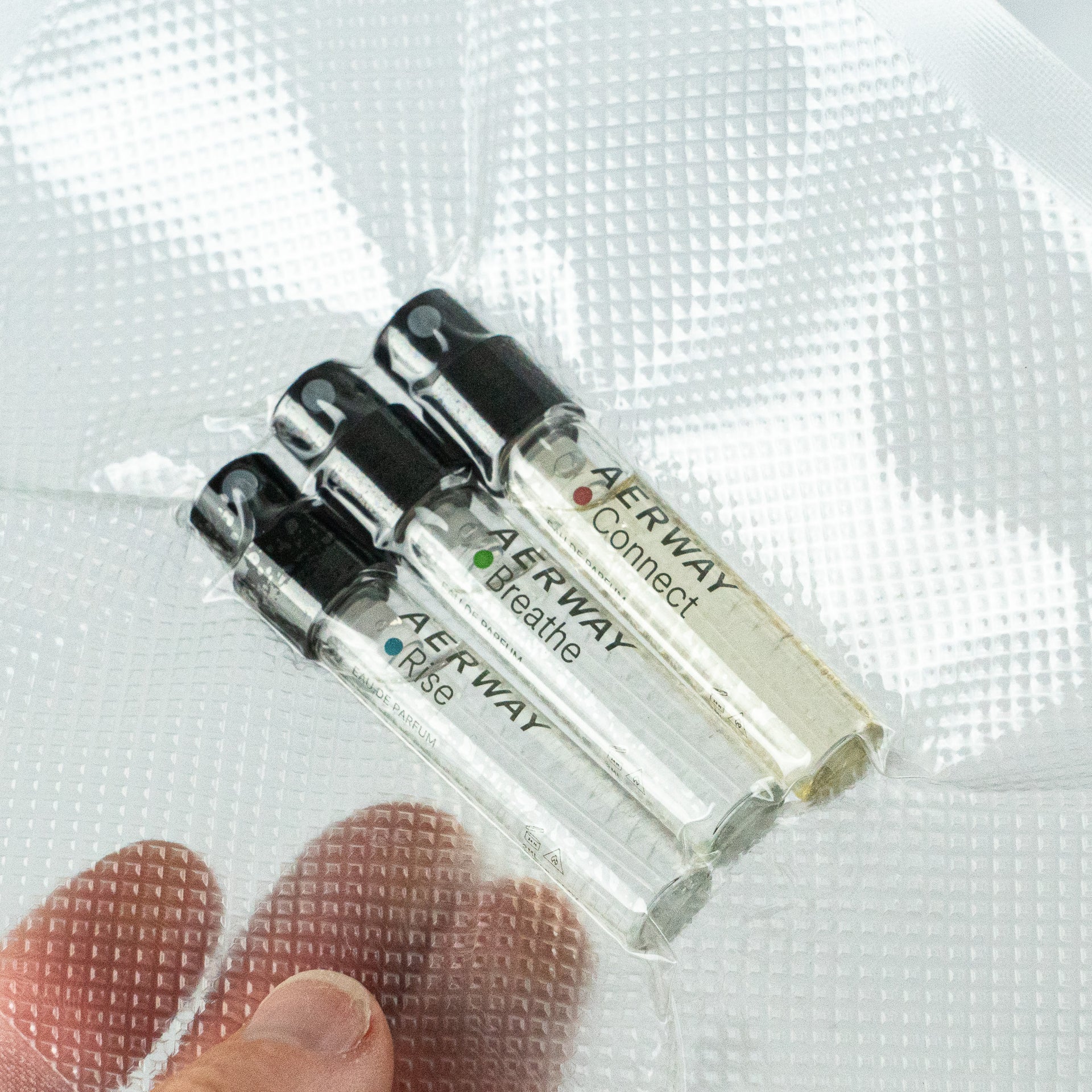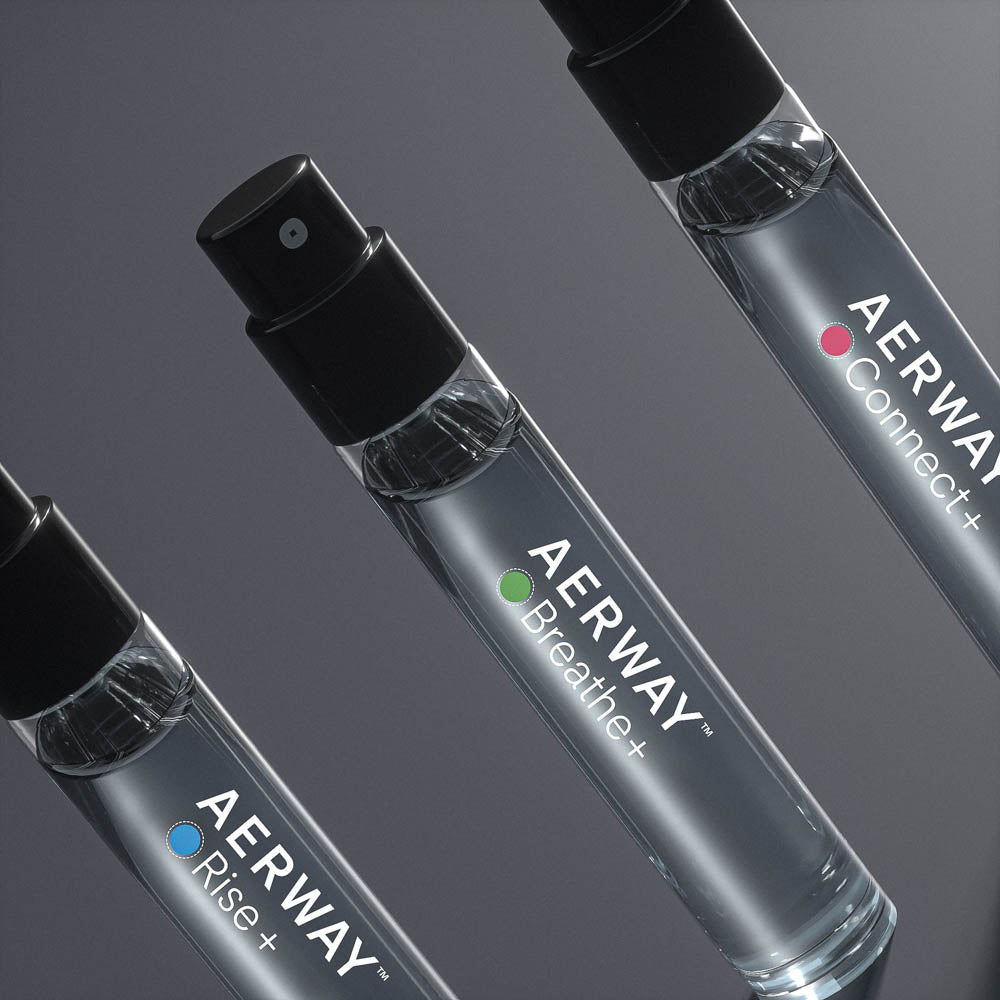 Try the unisex range of AERWAY™ Functional Fragrances with our Sample Kit. Each scent is engineered as powerful tools to deliver benefits to your everyday life.
Rise+ an invigorating fresh, aquatic scent engineered to boost motivation, increase energy and improve focus
Breathe+ an earthy, green scent that restores calm, and is a powerful tool to de-stress
Connect+ a sweet, warm, spiced scent that inspires intimacy, boosts sociability, and elicits joy.
Free expedited shipping.
---
01
Functional benefits
For everyday use
Increase Focus (Rise+)
Rise+ stimulates the olfactory system and activating the brain regions associated with attention, resulting in a more focused state of mind. A recent study published in the Journal of Environmental Psychology, has provided clinical evidence showing that being near the ocean promotes enhanced focus and attention, with findings indicating improved cognitive performance, increased ability to concentrate, and reduced mental fatigue.
Reduces Stress (Breathe+)
Breathe+ is formulated to reduce stress by directly communicating with the brain's Amygdala and Hippocampus, which are responsible for processing emotions and memory. Numerous studies, including a clinical trial published in theJournal of Environmental Psychology, have consistently shown that engaging in Forest Bathing, or spending time in natural forest environments, is associated with significant improvements in well-being, including reduced stress levels.
Increases Sociability (Connect+)
Connect+ increases sociability by targeting the Prefrontal Cortex and Ventromedial Prefrontal Cortex in the brain. Both areas are responsible for social behavior and decision making. The scent contains Geranium & Clove, which improve mood and increase feelings of connectedness.
By activating the Sympathetic Nervous System, which is responsible for the "fight or flight" response, Connect+ stimulates the body. Targeting the Hypothalamus and Pituitary Gland in the brain, Connect+ helps regulate hormones and increase overall energy and vitality.
Ethically sourced
Vegan
Cruelty Free
Non-toxic
Australian-made
Paraben free
Third party tested
clinical r&d
unisex
02
Powered by Neuroscience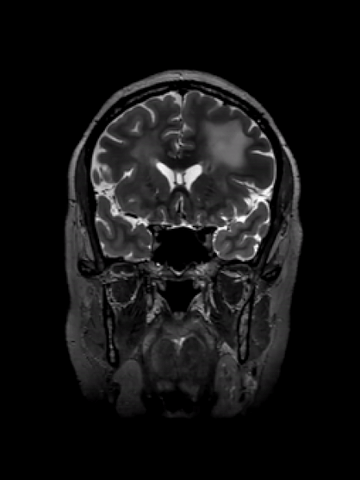 fig 1: The activity of the brain's neural network.
AERWAY™ engineers functional scents, to influence your mood, emotions & wellbeing.
The AERWAY™ range is carefully designed to target specific areas of the human brain, providing functional benefits to everyday life.
The Olfactory System is directly linked to the Amygdala, the core of our neural system - the area of the brain responsible for our mood & emotions.
---
03
Specifications & Ingredients
All ingredients
Parfum (fragrance), Alcohol (100% Australian premium ethyl alcohol), Aqua (water)Benzyl benzoate, Limonene, Linalool, Eugenol, Benzyl cinnamate, Citral, Benzyl alcohol
Here's what our fans have to say
@marissamills
When I spray this scent, it's like bathing in a forest.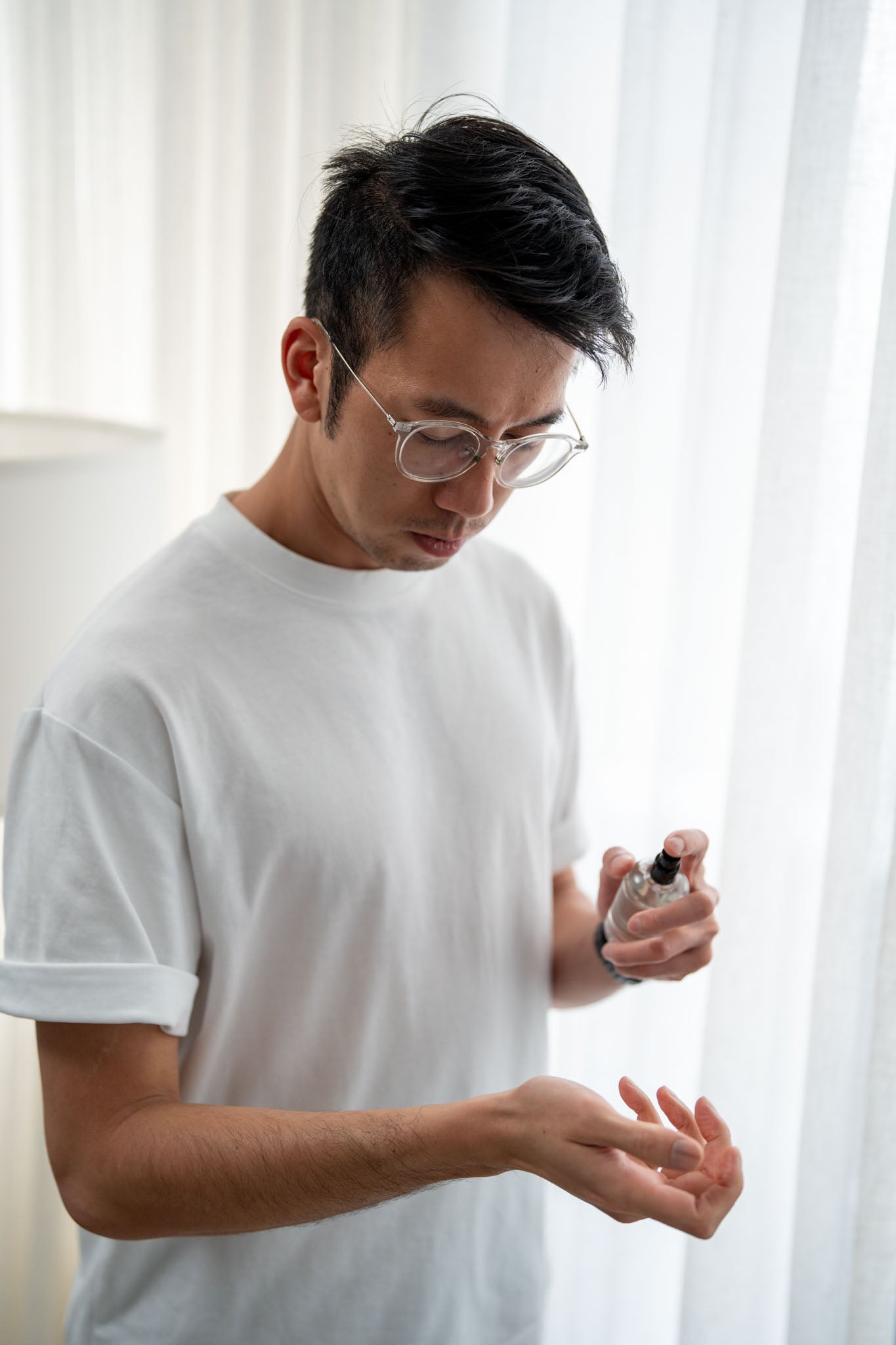 @killianpham
Helps to achieve mental clarity, with crisp, clean marine accords.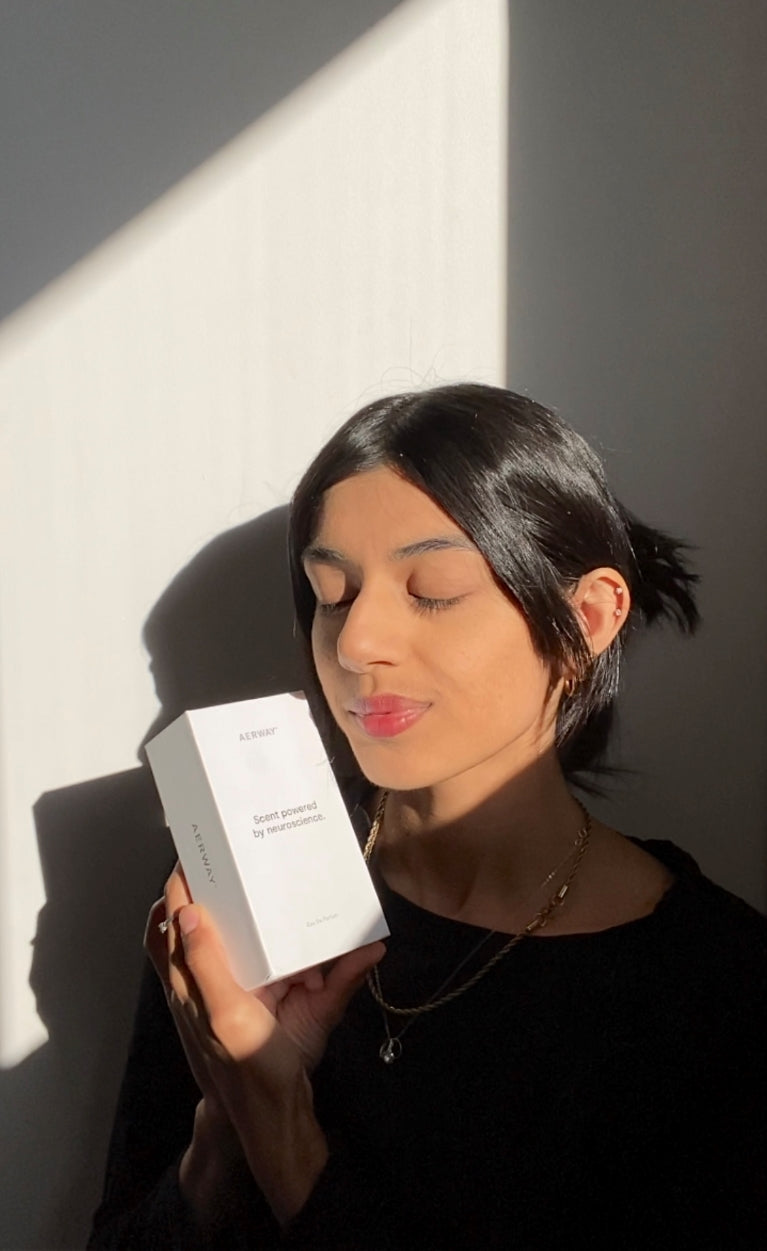 @heyitsjenna.ah
Designed to de-stress and promotes personal connection. Love it.
@heyitsjenna.ah
Designed to target your brain.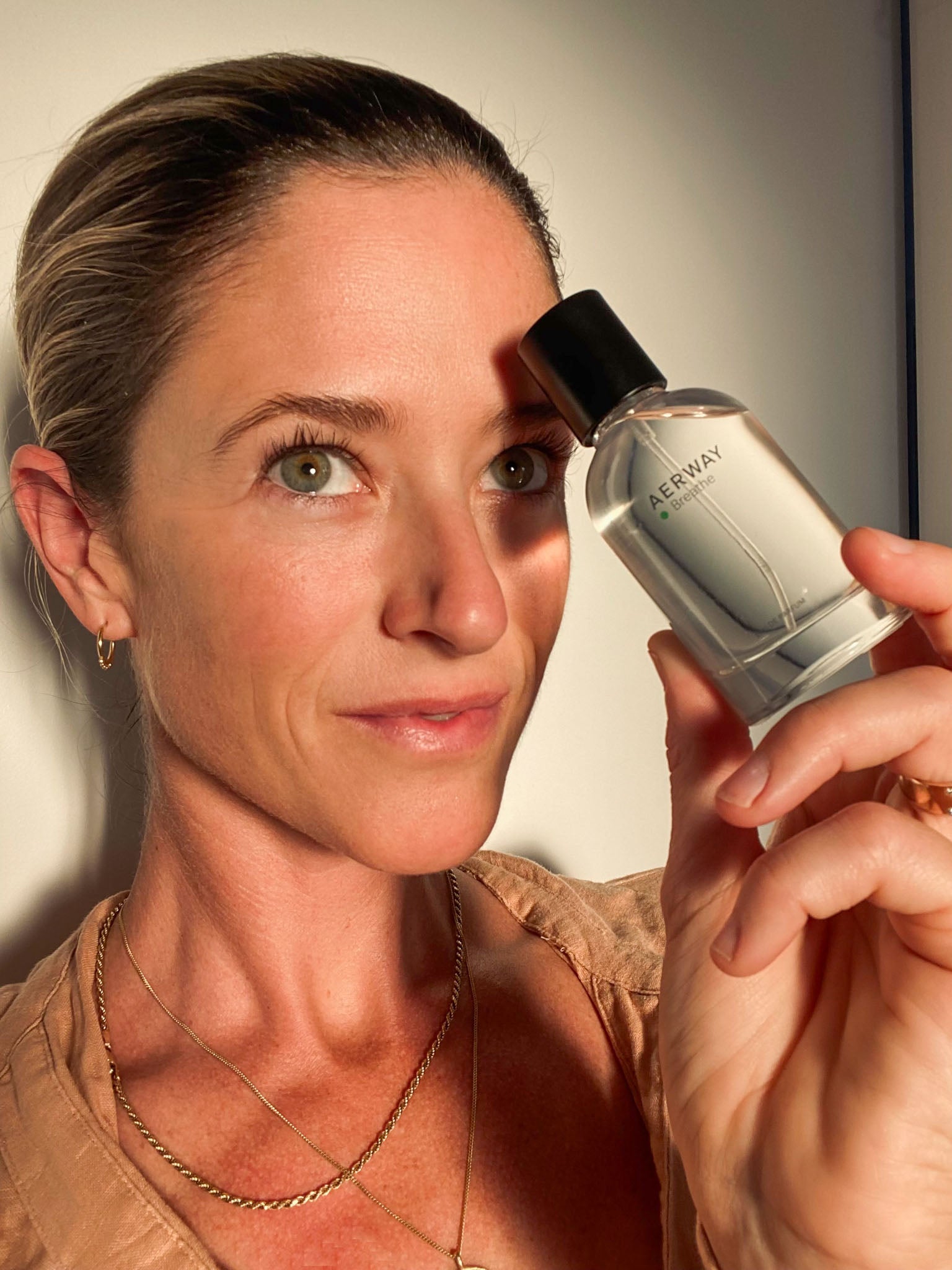 @marissamills
A calming, intimate scent.
@killianpham
I have this on hand at my work every day.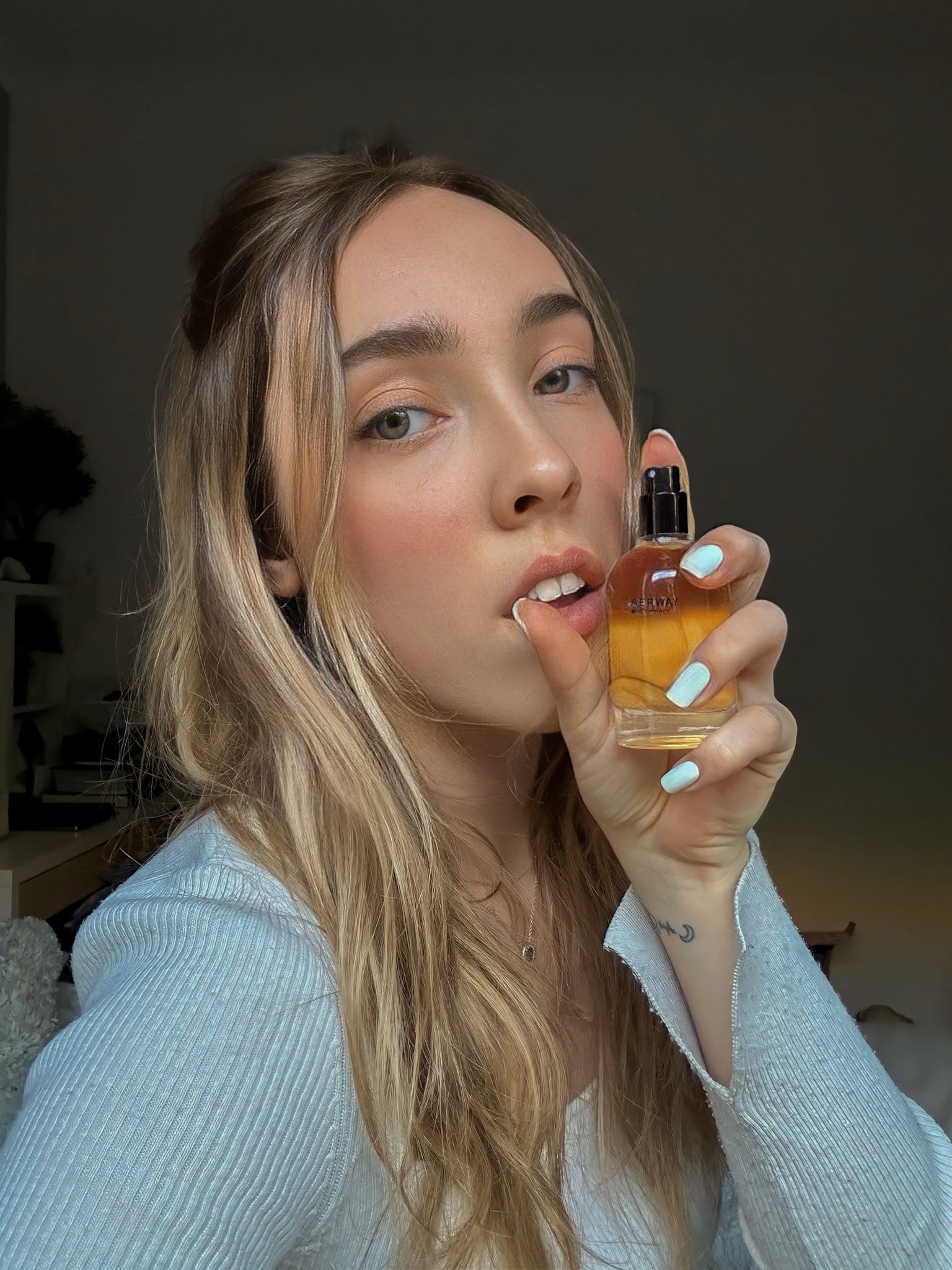 @renaemarie___
Love the spicy, woody scent. It has musk too.
4.8+ Stars from our customers
Tegan L.
VERIFIED CUSTOMER
Can't recommend Rise+ enough. Really captures the feeling of a morning swim. Intoxicating and makes me feel clear headed!
Charlie W.
VERIFIED CUSTOMER
The box and packaging is really nice. I bought it for a gift but ended up buying one for myself. With Rise+ I feel like I'm near a waterfall when I wear it. Can't quite describe it. But gives me a lot of energy and focus. Rate it highly!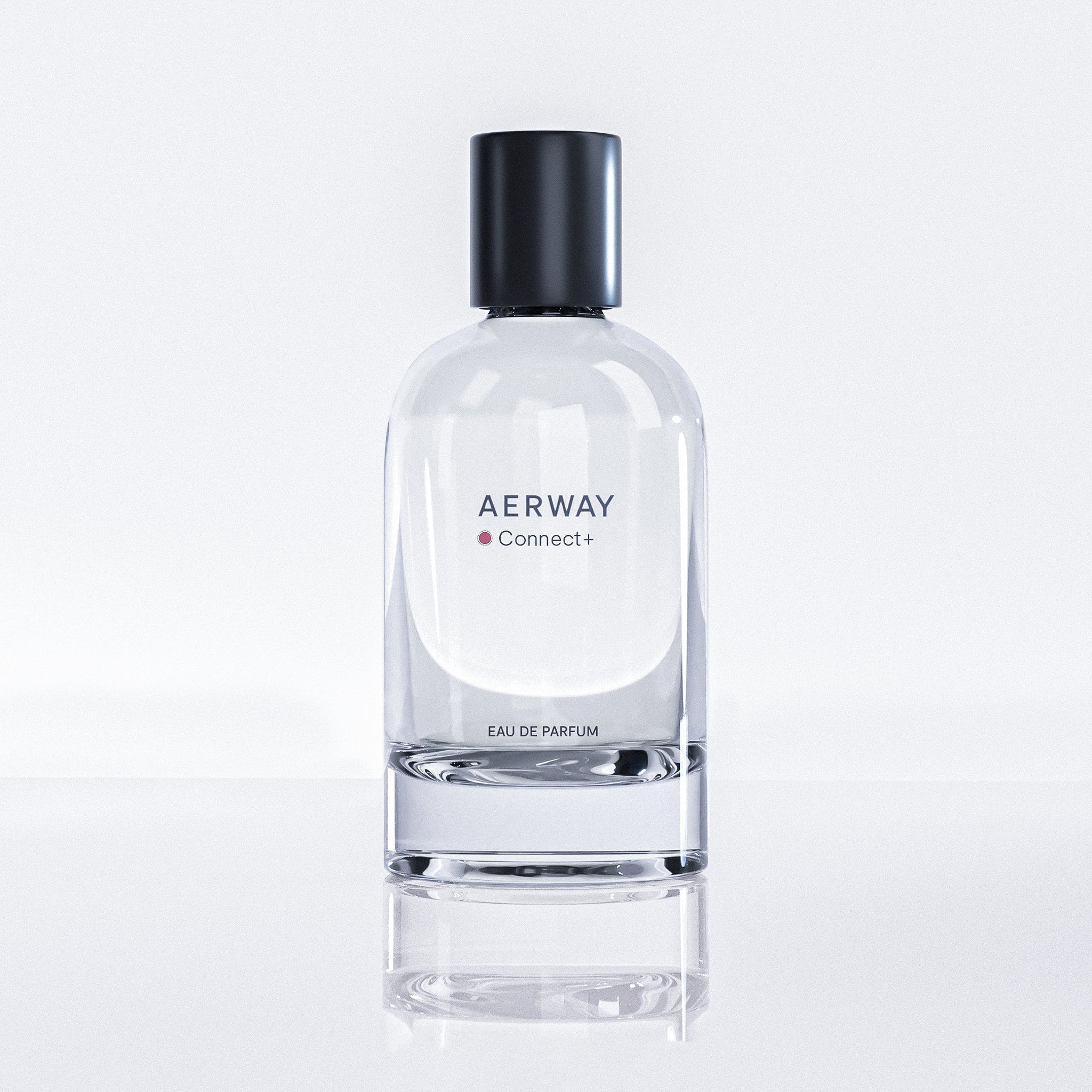 Florence G.
VERIFIED CUSTOMER
Really great scent. I get a lot of compliments. Love the warm, spicy notes. Glad I found this.. my new favourite.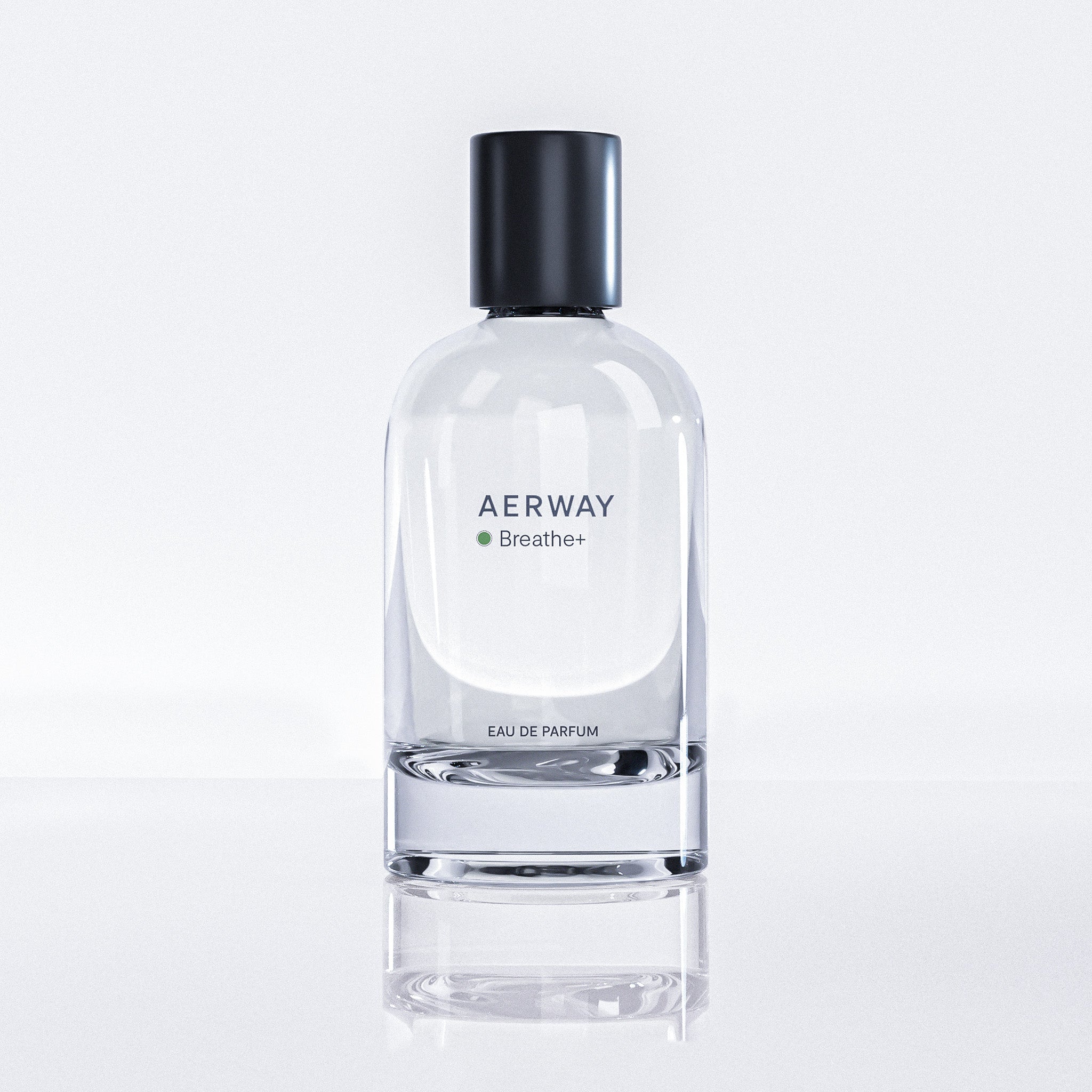 Renzo P.
VERIFIED CUSTOMER
Can't get enough of Breathe. I'm using it every day to unwind. It helps me feel grounded. Big fan of this scent. Recommend highly. It does actually smell like a forest. Nice relaxing scent... recommend it.
Jake D.
VERIFIED CUSTOMER
Nice smell. Clean, very much unisex. Can see myself using it daily. My girlfriend likes it too.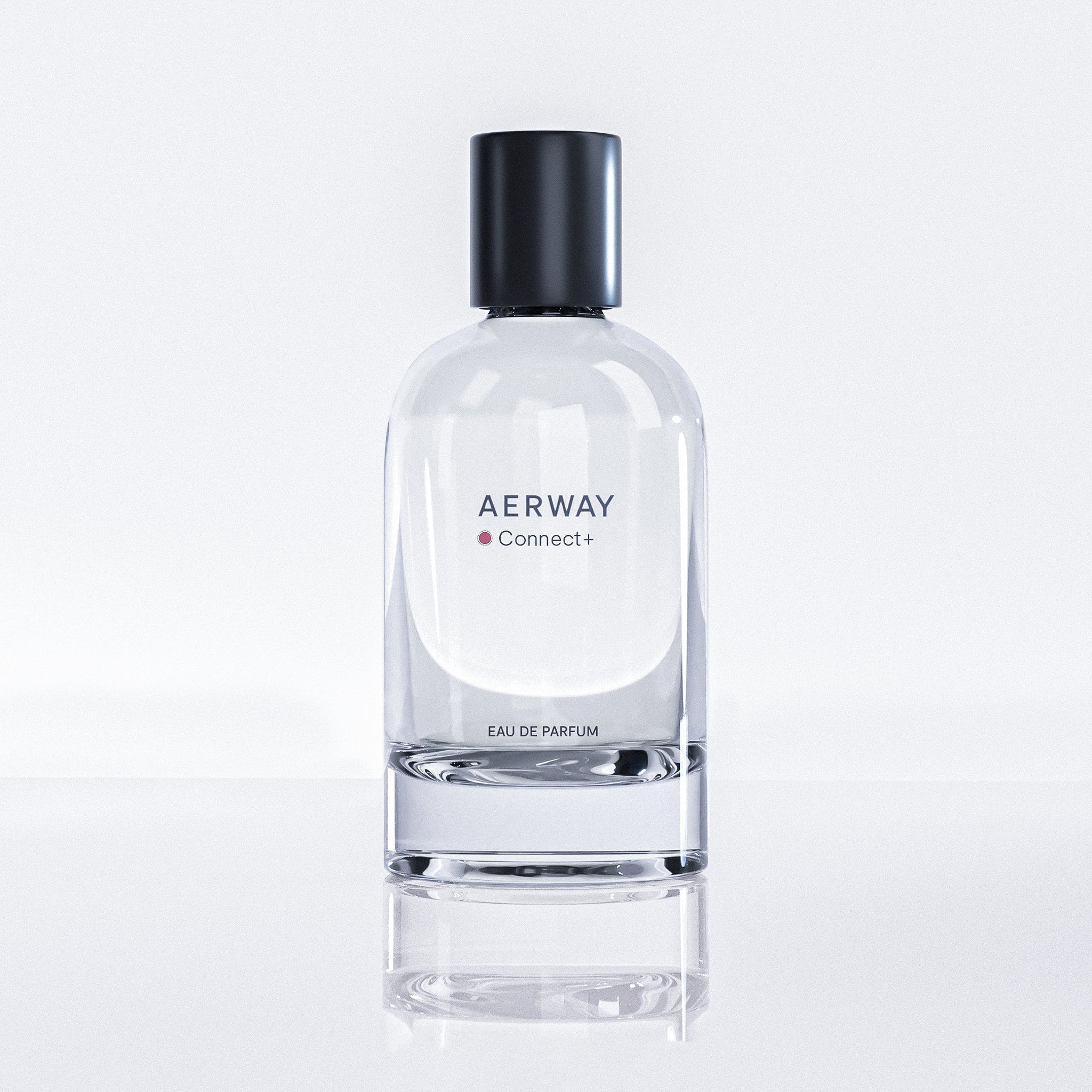 Name A.
VERIFIED CUSTOMER
The scent is just divine. Never smelt anything like it. Nice spicy sweetness at the start and then turns into a sexy warmth. have been getting compliments from it!!
---
Free expedited shipping.
Enjoy free deliver on every order
Easy 30-day returns.
If it isn't love at first smell,
full-bottle returns are hassle-free
Easy support.
---
06
FAQS
What is AERWAY™?
AERWAY™ is an innovative scent company that harnesses the power of neuroscience to develop and engineer functional fragrances for everyday use. By leveraging cutting-edge research in the field of neuroscience, AERWAY™ creates scents that are carefully formulated to optimise various aspects of your daily life. Whether you're seeking heightened productivity, an uplifted mood, or a sense of relaxation, AERWAY's innovative fragrances are designed to enhance these experiences.
Is AERWAY™ eco-friendly and sustainable?
To raise our fragrance's sustainability, quality, and consistency, AERWAY™ scent oil blends safe synthetic ingredients. and natural ingredients. Synthetic ingredients allow for a higher-quality product and more product consistency. Synthetic ingredients are also more sustainable, as the harvesting of natural ingredients is detrimental to the planet and its ecosystems
We rigoursouly test and design our product and are approved to the highest of standards. We are proudly in compliance with the International Fragrance Association (IFRA).
Connect+ is an exceptional Eau De Parfum that is not only responsibly sourced and clean, but also ethically manufactured, vegan, cruelty-free, and upholds the standards of the IFRA (International Fragrance Association).
This fragrance is made using only the highest quality ingredients that are free of parabens, toxins, and any animal-derived ingredients. We are committed to ethical and sustainable practices, with our packaging and distribution a 100% carbon-neutral process, ensuring that the fragrance is made in a clean and environmentally friendly manner.
Are the scents long-lasting?
AERWAY™ is the perfect choice for anyone who wants a long-lasting scent that they can wear all day. With a wear time of 8+ hours, this fragrance is designed to last. To ensure the best results, it is recommended to apply the fragrance daily using two to four sprays. Despite its light touch, this scent is incredibly durable, making it an excellent choice for those who want a subtle scent that won't overpower. Whether you are looking for a scent for work, a night out, or just for everyday wear, this fragrance is the perfect choice for anyone who wants a long-lasting scent that is easy to wear.
Who is AERWAY™ made for?
AERWAY™ offers a range of functional Eau De Parfum fragrances designed to help people enhance their daily lives in specific ways. Their fragrances are unisex and are made with carefully selected scent molecules that have been shown to produce specific functional effects on the body and mind. Whether you're looking to improve your focus, boost your energy, or promote relaxation, AERWAY™ functional fragrances offer a unique and effective way to target these effects.
How does the sample discount work?
If you purchase any sample size or sample kit from Aerway, you will receive a one off unique code to take $16 off the full price of subequent full bottle purchase (50ml or 100ml). These discount can not be stacked for the purchase of one individual bottle